Our mission is simple - to empower others to get back in the driver's seat of their wellbeing. 
Our principles guide how and why we do what we do: 
Preventative Care
We believe that making the most of life means adopting a "hands on" and proactive approach to your wellbeing. It's less about being reactive and waiting for "life to happen" and more about taking small steps each day in the right direction.   
We're here to help you discover health and wellness tools, resources as well as develop trusted relationships with practitioners in a way that works for you so that this doesn't remain just an idea but becomes a seamless part of your lifestyle. 
Accessibility
A common stereotype of the term "Wellness/ Holistic Health"
is that it has often been reserved for those prepared to invest time and large resources to access it. We're on a mission to change that because reconnecting with all aspects of our multilayered human experience should be accessible to many, and not just a privileged few. 
The Wellness Quo aims to make finding a trusted practitioner as simple as googling the best rated coffee shops in your area or booking an Airbnb. You shouldn't have to move heaven and earth to understand how to take care of yourself. 
Empowerment
The beauty of the human experience is that it is an intertwined play of psychological, emotional, spiritual and physiological factors. There are times, however, when we get caught up in life and stop being in tune with them.
The Wellness Quo is here to support you in getting back in the driver's seat of your wellbeing so that you can make informed decisions in a safe and comfortable way, no matter at what stage of the journey you are. 
Connect with our practitioners and find tools & resources that are right for you.
About the founders 
Janney Yee | Carla Segvic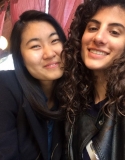 We're two young women who grew up with the joys of holistic care in different corners of the world; Janney in Singapore and Carla in Croatia. Healing therapies, Ayurvedic nutrition, understanding energy and the law of attraction and many other holistic approaches have shaped us into the adults that we are now and help us navigate this whirlwind of life.
We're on a journey to share this with others like you because we think everyone deserves to better understand themselves, their wellbeing and lead a more intentional life.  
Our one-stop space aims to help you connect with holistic health practitioners and find resources that work for your healing journey.
❤️